Saving money on groceries while RVing full time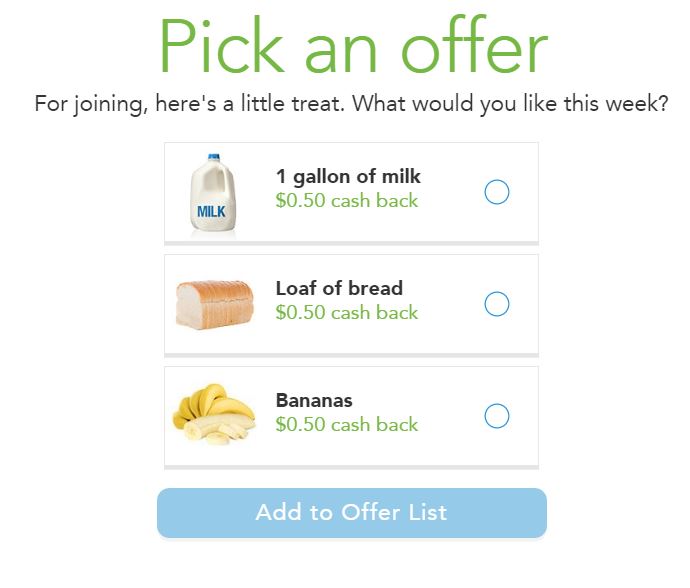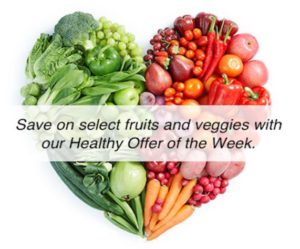 As I previously mentioned, I used to be a enthusiastic coupon shopper. I would get great deals even on fruits and veggies through strategic shopping, although most people think coupons are mostly for processed stuff.
Since the recent changes in store policies (many stores stopped doubling coupons or accepting competitor coupons) plus my recent changes in lifestyle (RV living = reduced space, no more fixed address for subscriptions), I also had to adjust a bit. However I still like to use coupons for things I buy anyways whenever possible. Saving money on groceries while RVing full time is totally possible and not very different from saving money on groceries while living in a stick and bricks place.
Despite all the changes, I still coupon, I just can't help it. These days I mostly use apps, ecoupons and printable coupons.
APPS / eCoupons
Most grocery stores out there today have loyalty programs that let your load ecoupons and it seems we are getting new cashback apps on a daily basis. I don't use all of them, to keep things managable. After all we also have limited online time and rather be out and about exploring.
The following are a few of the online resources I use to save money on groceries while on the road.
Cashback apps
The cashback apps I use most for instore purchases are Ibotta, Checkout51 and SavingStar.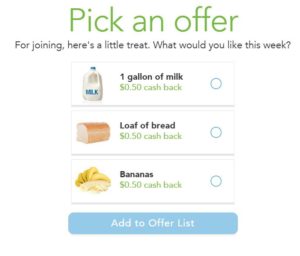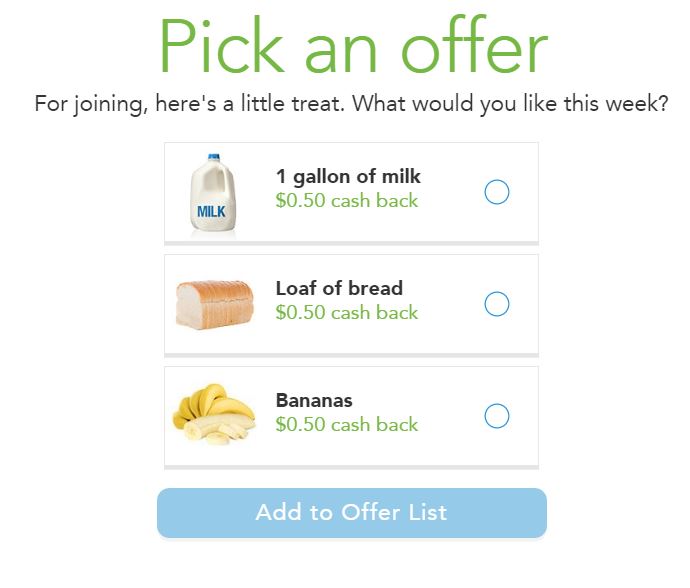 They are pretty easy to use, you upload your receipt to the app and choose which items they offer rebates on are on the receipt. Often the'll have cashback on milk, eggs, fruits and veggies. As soon as you get over a certain threshold Ibotta, SavingStar or Checkout51 let's you cashout the money. All three allow paypal. But most let you choose other options (bank deposit, redeem for giftcards, get a check etc.).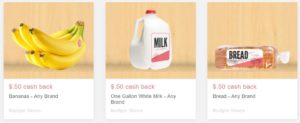 In any case you can still use paper coupons for the items you buy, so that will help. There are a few others out there, but often they won't allow a coupon stack. Checkout51 has become a bit fussier with that as well recently, but it's still pretty useful.
I know it sounds a bit cumbersome to use those apps, but it's really supereasy. You log in, you pick your offers, upload your receipt and submit for rebate. Most of them have sign up bonuses, so you are motivated to try it and get a quick result. Then if you realise it's not for you at least you tried it and move on to something else. Ibotta currently gives you a $10 signup bonus, for just a couple of minutes of work. Might as well try it, right?
Store loyalty programs
The stores I shop at most are Safeway/Vons and Frys/Kroger. Both of these stores have apps, where you can load ecoupons to your card. Often times for $ off your entire purchase, if you hit a certain threshold.
I am a particular fan of the Safeway J4U app, as it often gives me special pricing on the produce I buy in combination with $$ off.
The Frys app usually has a freebie to download on Fridays and most Wednesday they'll have a $/$$ loadable coupon as well.
I shop less at Frys, but I like that they'll donate a small percentage of your spending to a charity you can designate in your account.

I also use Target's Cartwheel app on occasion, although I usually don't shop for groceries at Target. If you are one of those Target enthusiasts you will find discounts on produce, eggs, dairy and meat on a regular basis.

Coupons
Now that I don't have any paper subscriptions anymore, I am limited to coupons I can print or find in stores. I very rarely buy the Sunday paper anymore.
Printable Coupons
You can print paper coupons from coupons.com or redplum. I just scan those places for items I am using anyways.
I also watch out for coupons in the stores and take a couple if I think this is an item, I may be purchasing in the future.
As we buy mostly unprocessed products like produce, dairy and meat, there are fewer coupons that are of interest to us, but they are out there. If I cannot find them on coupons.com or redplum, the brands themselves are often a good source.
DelMonte once and a while shares coupons on their FB site (such as $0.50 off 1 DelMonte item) that you can use on any of their produce such as bananas or pineapples. There's currently none availalbe, but they show up every so often.
Vidalia Onions does the same on their website, when the onions are in season.
Right now neither of these companies has coupons, but bookmark them and check back once in a while.
Earthbound farms sends out lots of coupons per email to subscribers of their email newsletter. It's easy to subscribe on their website. I use a dedicated email for such newsletters to keep my main email spamfree. What I like about them is that they have a large variety of fruit and veggies as well as frozen produce you can use the coupons on and that almost every newsletter has a coupon in it.
Organic girl occasionally emails coupons to subscribers of their email newsletter. You can sign up on their website.
Fresh Express used to be super generous with coupons. They were easy to come by in stores and they had a program, where you could input the codes from the bags. Unfortunately that is not available anymore. I still check back on occasion to see if they offer something . The only coupons I have for them right now were on the packages from previous purchases.
One of my favorite coupons sources is Driscolls. If you sign up for their emails they give you a 50 cents off printable coupon, but once you buy their product, you can fill out brief surveys with codes from the packaging and earn more coupons. The more surveys you fill the higher the value of the coupons. We eat a lot of berries so we usually end up with $1 off per package that we keep using to buy more Driscolls berries.
Cuties manadrins and mighties kiwis often have insert coupons, but are also offered as printables on occasion.
We don't buy a ton of dairy, but I always make sure I have a couple of printouts of the California Diary Seal coupon with me, in case the cheese, milk or yogurt we buy does have the seal.
Coupon finds in stores
Another good source are the stores themselves. I found a tearpad for Naturesweet tomatoes in stores, right in front of the tomatoes for several years in a row now, usually at Safeway. I have also found coupons for any Melissa's product, which offers a wide variety of veggies and fruits at Sprouts. And as mentioned above, you will find coupons on the packaging itself on occasion as well, although I prefer to buy not prepackaged produce whenever possible.
Of course you can always write to these companies and ask for coupons, it's just a little less practical for me, while our locations constantly change on the road.
When browsing the stores, always do check the wine section. Often wine tags are for generic product like vegetables, cheese, bread or meat and in many cases there is no wine purchase necessary (this will also depend on the laws of the state you are in). Some of the stores don't bother putting the wine tags on the bottles, but have a little basket in the wine section, that you can look through. Whenever I find some usable wine tags, I'll make sure I take a couple for future use. I have had some great finds, such as $1 off 3lbs or more in potatoes, $1 off any cheese, $2 of chicken etc. These are definitely valuable coupons to have.
Using the right credit card
I also pay all my grocery store shopping with my my American Express Blue Cash Reward Card, that gives me 6% cash back on grocery store purchases. Of course I pay it off in full each month. I like to get money back for things I am doing anyways.
If you are interested in getting it, please shoot me an email and I'll send you a referral email if you'd like. They currently have a signup bonus of $150 for new members plus a potential to earn another $200 back on Amazon purchases. You can also sign up directly on their site, which is perfectly fine.
Buying directly from the source
All that said, I still do prefer to shop directly from the source whenever possible. If I find a small roadside stand or real farmer's market, I'll happily pay full price without batting an eye. The produce is usually so much better than the one sold in grocery stores and you get to support local farmers, even if it may be it bit more.
In Circleville, UT the owner of the local RV park helped us connect with some of the local folks, who grow their own veggies and fruit. People in those small remote places are used to bartering and being self sufficient. We got some very good deals on produce that way.
The Orchards in Capitol Reef National Park, let you pick your own fruit for like $1/pound. Very good quality produce for not a lot of money.
My absolute favorite so far, was this little gem we found in Caineville, UT near Capitol Reef National Park: Mesa Farm Market. Amazing peaches, tomatoes and cucumbers, three varieties of goat cheese they make themselves, eggs and fresh bread! Not cheap, but definitely worth every penny!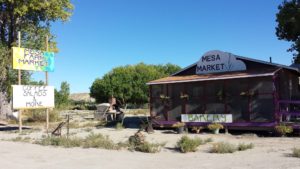 This page contains affiliate links, which means if you purchase an item or sign up for a service via one of these links this blog may receive a small commission. This is at no additional cost to you, so if you chose to use any of these links, thank you for supporting my blog.