How to save money on gas! My favorite savings hack to get 20% off at the gas station!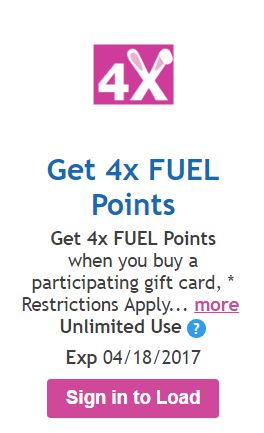 Let's face it, at 7 miles per gallon Harry, our Holiday Rambler Vacationer, is not exactly a fuel saving miracle. With his 75 gallon gas tank he always seems to be thirsty. This is something you have to come to terms with, driving an RV. The guy who sold us Harry, claimed he was getting 12 miles a gallon. Yeah, wishful thinking. Not even downhill with tail winds.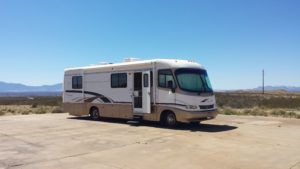 Not moving Harry would of course greatly save us on gas, but would be quite pointless. So we use all kinds of strategies to save money on gas while exploring the country. Here is how:
This app is seriously one of the best free apps out there and we refer to it, whenever we need to go fill up. Gasbuddy has saved us up to 30 cents a gallon in several cases without much effort. With an average fill up of 35-40 gallons (we try to not get too low) that amounts to over $10 per fuel stop. Easily saved $10+ a time, is nothing to sneeze at. We also contribute to the gasbuddy price lists, when we drive by gas stations and see the prices are not correct or have not been updated in a while. We appreciate the community effort and want to contribute our share. Gasbuddy also has a handy dandy Trip Cost Calculator.
2. Use a credit card that gives a high reward percentage for gas purchases.
We personally use the Amex Blue Cash Preferred, that gives 3% cash back on fuel purchases. I know, there are cards out there that give you up to 5% at the pump, but I have another hack, that occasionally gives us over 6% back at the gas station using this very same Amex Blue Cash Preferred. Let me explain next.
3. Use store fuel rewards to your advantage where available.
If you have Kroger chain store in your area (Frys, Kroger, Smiths, King Soopers, Fred Meyer etc.), those stores usually have a fuel rewards program for their shoppers and on occasion will give you 4x fuel points on gift cards.
Right now many of the Kroger stores offer 4x fuel points on gift cards through 4/18.
1000 points will get you $1 off at the pump for up to 35 gallons (double check the store in your area, as their program may vary) redeemable at their own gas stations, Circle K and many Shell gas stations.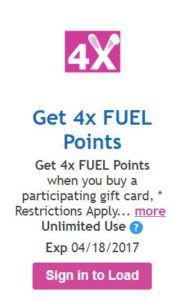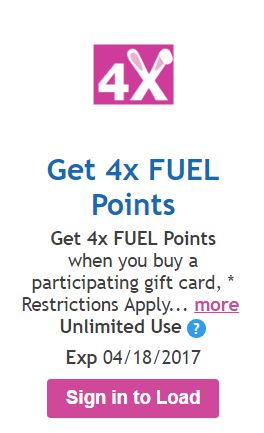 The American Express Blue Cash preferred gives you 6% back on groceries (up to $6000/year). So if you buy gift cards, say $250 in Shell gift cards with your Amex Blue Cash Preferred, you would not only get 6% back because this purchase will qualify as a groceries ($15), but will also have 1000 fuel points worth $35 off at the pump (35 gallons x $1), for a total of $50 savings per $250 spent, or 20% off. Bam, that easy!
I'll take 20% off gas anytime WHEN it is available. So if you'd like to take advantage of this deal, this time around, you need to load the 4x reward coupon to your shoppers card and head to the store BEFORE 4/18. These kinds of opportunities are usually offered around major holidays, so we'll see them 4-6 times a year.
If you are interested in signing up for the Amex Blue Cash Preferred, please send me an email or leave a message on the bottom of this post and I can send you a referral link with all the info on signup bonuses. You can of course also directly sign up on their website.

I also try to collect fuel points at Safeway stores. Their program is available in fewer states as Kroger chain stores, but if you have one in your area, I strongly suggest you check it out. They often give me bonus deals through their Just4U program, like 10x gas rewards on Petsmart or Autozone gift cards, along with fuel bonuses for purchasing a minimum total amount or certain items, like produce. Fuel points at Safeway are pretty easy to earn and can be redeemed for up to 25 gallons at Safeway gas stations, Texaco and Chevron. In my experience those tend to be a bit more expensive than the Frys or Shell locations, but I'll gladly redeem an easily earned $1 off when I can.
4. Use other free reward programs:
Shell has a reward card, you can get at any Shell gas station, that gives you 3 cents off per gallon. Not a ton, but if you already have a Shell gift card from the above mentioned fuel points deal and are out of $1 fuel rewards, you may as well stretch it a bit more by getting a few extra cents off.
Good Sams Members can save 5-8 cents per gallon at Pilot Flyin J gas stations. They will also get discounts on dump fees and propane (Good Sams currently has a promo on the Membership Roadside Assistance for $79.95 + $15 for Camping World
).
5. Tow a car or bring alternative means of transportation (bike, motocycle etc.)
Yes, this sounds counter intuitive. We could probably slightly improve our gas mileage by not towing a car. But towing a car actually saves us money as well. By towing a car, we can leave Harry behind, when we get to our destination and from there can do exploring with much higher (24-28 mpg) fuel efficiency, lowering our average fuel expenses. I really wanted to bring my bike along on our trip, but as TDA is not a big fan of bike riding and we are often camped ways away from the next town, we opted against this for the time being. Still working on TDA regarding this subject though, have not given away my bike yet.
6. All the other things, that are common knowledge, but we sometimes tend to forget
– Keep your RV tuned, well maintained in tip top shape and running at its best
– Check your tire pressure and maintain it at the right level
– Take it Slow! Drive at lower speeds and resist the Interstate. Driving at 55 on scenic byways is much more fun than rushing at 70 on the highway, where you can hear the fuel running throught the RVs veins
– Drive efficiently, use cruise control, avoid stop and go, don't idle while parked etc.
– Reduce your stuff some more, any items you can shed, will reduce the overall weight, which will improve your gas mileage. We still cart way too much stuff around and are certainly due for another round of decluttering.
Did I forget any major fuel saving tips? Please share your best saving strategies?