Getting unstuck in Sun Valley in preparation for the Solar Eclipse!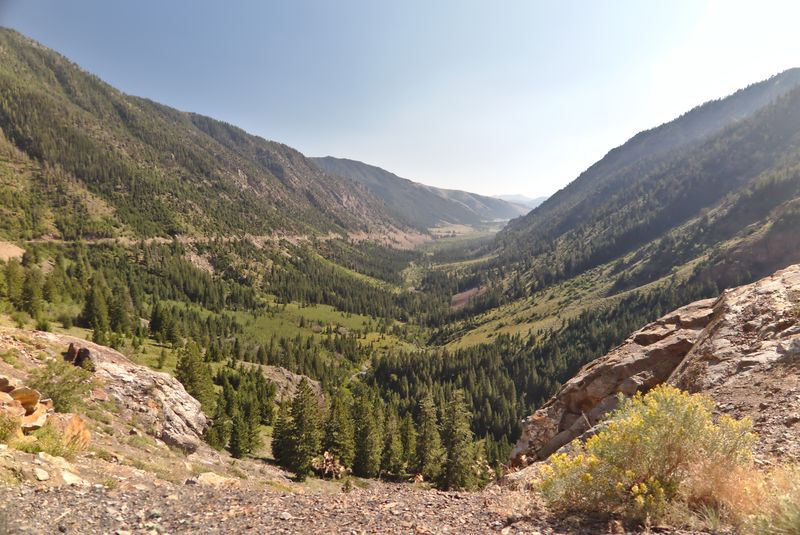 No better location to watch the Great Solar Eclipse than a place called Sun Valley! Right?
Actually, we did have other plans, but you know what they say about best laid plans and such…
We were going to head up to the Redfish Lake area of the Sawtooth Mountains in Idaho, where we would have enjoyed well over 2 min of totality, pretty close to the maximum possible in Idaho. We were prepared. We had read up on great viewing spots along our ever-changing itinerary. I had already gotten our glasses way ahead of time, a lesson I had learned from the eclipse that passed through parts of Europe in 1999.
In the weeks leading up to the event, people had told us crazy stories about campgrounds charging $150 and up for dry camping and much more for full hookups. Everything was supposedly booked solid. Farmers were offering people to park in their fields for outrageous fees, people were renting out their houses and driveways for huge premiums etc. MADNESS!
We figured if we made it to the Sawtooths around 12th or 13th August and find a boondocking spot in the NF, we should be fine. The Redfish Lake area has a 10 day maximum stay. Arriving on the 13th would allow us to beat traffic and avoid the masses by arriving over a week before the event and leaving two days after.
On our way up to that area, we wanted to stop for a few days in Sun Valley, ID to check out the Sun Valley Resort, various hot springs, stock up on groceries and be close enough to our final destination so we'd only have a short drive.
We rolled through Ketchum, ID on Friday 11th August, late afternoon and found a nice NF boondocking campsite with gravel roads leading in from a paved byway, just east of town, right by Sun Valley. Several RV's were already camped out in the vicinity, but there seemed to be lots of spaces remaining. As we approached, we realized that the first two turnoffs into that area were a bit rough, so we figured, by the way they were facing, most RVs had probably come in through the third one. We drove to that third turnoff. The way in looked a bit steep. I said to TDA, "this looks steep, we should probably disconnect the car and scout out first", as we usually do in unfamiliar terrain. But it was late and TDA just wanted to be done driving for the day, I don't blame him, it had been a long day.
But you know what happens when a guy does not listen to his wife, right? BAM…..the universe punishes this kind of stuff IMMEDIATELY! It's a scientific fact people, LISTEN to your wife, alright!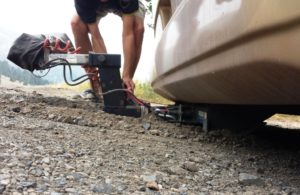 Long story short, we sat down the back of the RV and got STUCK! With the toad still attached and back wheels of the RV spinning!
We took the tow vehicle off, dug out the hitch a bit, put wooden planks under the back wheels and tried to back out. BAD IDEA, we were still way too low and just dug ourselves in more. Poor Harry could neither go back nor forward.
Now, we were REALLY solidly anchored in rock hard gravel! Definitely no going back, so we decided to prepare for going forward.
We tried to jack Harry up and put levelers and some wood planks under his back tires to get higher, but realized that we'd need more wood to even out our way down.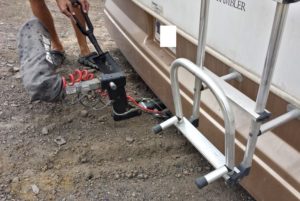 Time to break out the trusted fiskars folding spade along with his buddy, the brand spanking new, never used, small folding trowel. Both items had traveled with TDA for many many years, tucked away in his previous RV without ever seeing the light. Since we moved them into Harry they have been the subject of many jokes over the last few months. That day though, both of these things sure came in handy!
We got busy digging and when it got too tight for both of us to keep digging, TDA started to uninstall the tow bar to give us more space and I drove to Ketchum to see if I could find wood. FIND WOOD, on a Friday evening, in a teeny tiny resort town….SURE!
The stores were already closed, of course, but a friendly local whom I asked for directions, helped me out with what she had sitting in her front yard. Thank you Lacie from Ketchum, you are awesome!!

When I got back to the RV, two guys, Bob and Zeke, who were camped nearby were trying to help TDA to get out, but even with the wood I brought, we weren't sure if it would work out. Another camper, Scott, who was also staying in the general area, stopped by later and offered help as well, but it was getting dark already, so we decided not to chance it and make it worse.
Luckily Harry's back-end was not in the main road anymore, the entire rig was sitting in the turnout. We put out warning triangles on either side of the way and called it a day. We went to sleep, STUCK, angled in the middle of the dirt road.
The next morning we got up early so we could get out of the way ASAP. Luckily there was enough space to the left to allow other campers to bypass us and there were also the before mentioned other rough access points to the area.
We drove back into town and had some wood planks cut down at the local lumber yard, then went back, dug a bit more and paved a wooden path down the road. We moved forward, inch by inch, moving the planks from back to front again and again. At the deepest spot we needed four layers to make it work. Did I mention it was a bit steep? But it worked!! We got in!
Everyone was cheering and we were incredibly relieved! We got quite a bit of exercise and a good laugh out of all of this.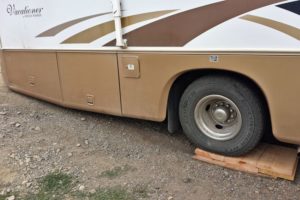 TDA felt terribly bad and I felt sorry, he felt bad. But all in all, I knew we'd be ok. We make a great team in tricky situations and tend focus on solutions rather than finger-pointing. Or, as Spock would put it "Once we are convinced of the reality of a given situation, we abide by its rules." If he only just listened to me once in a while!!! TDA, not Spock! Just kidding, no, really!
Maybe, I should quote Spock in future situations, just to be sure "I can not allow you to do this. It is my function aboard the ship to advise you in making the wisest decisions possible, something I firmly believe you are incapable of doing in this moment."
After it was all said and done, I realized we had let our Good Sam Roadside Assistance
expire. It had expired, two days before we got stuck. Go figure! We decided to renew for sure, even though we ended up not needing it this time. You just never know.
Once we settled in our camping spot, I took a walk, to look for the three guys who had helped us the previous day. I knocked on each of their doors to let them know, there'd be pizza and beer at our rig later that night. They had all been camping in this area for a while, but had not yet met. Funny, how a little mishap like ours can bring people together. We had a great evening, lots of laughing and trading stories. Full time RVers are an interesting bunch for sure. One of those guys, Bob, had just dangled of a cliff with his trailer the week before. So in perspective, our story was pretty harmless.
Now that we were in our campsite and still sore from all the digging we had to plot a strategy how to get out again. After all, we wanted to head up towards Stanley, ID to find a campsite at Redfish Lake a couple of days later. While we were trying to figure out when and how to leave, a fellow RVer who had just arrived in Stanley messaged me, saying that many people already had pulled in RVs and put up tents to reserve spots in the NF, without even camping there. He also said the Rangers had stopped by all the NF campsites that day, warning people to stock up on needed supplies ahead of time and to stay put as long as possible. They were told the store up in Stanley was expecting to run out of water and gas by Saturday or Sunday. They also were advised that roads into the general area would be in gridlock starting Friday.
Once we heard that, we figured that 1 min 40 sec of totality in Sun Valley, instead of 2 min 30 sec at Redfish Lake, was not so bad after all. Beats fighting the crowds for sure. Luckily the maximum stay in the Sun Valley area NF is 16 days, so we were ok to stay however long we could make our tanks last (usually 10-11 days) without overstaying our welcome.
We spent our days chatting with our new friends, soaking our sore bones in the local hot springs, exploring Sun Valley and Ketchum, hanging out and relaxing. It was almost like…ummmm….a vacation. I even managed to write a blog post during that time, yay!
And then came the day!! August 21st! The Great Solar Eclipse!
No crowds, no fighting for space, no waiting in traffic! Just us, outside, in this beautiful valley, in our chairs with our eclipse glasses and coffee!! Blue skies, hardly any clouds and no smoke. It was perfect! This was the second solar eclipse I experienced. It is something that is truly fascinating, touching and very hard to describe as a personal experience.
As far as the bigger picture is concerned, fellow FI blogger Primal Prosperity sums it up really nicely in this blog post:
"Well, 2017 is shaping up to be a tough year as well. Political divides are deep. Racial tensions are high. Global relationships are strained. Nuclear war is a real threat. So is environmental devastation. Misogyny is prevalent, and LGBTQ rights are in peril.
But, for 90 minutes, on August 21st, 2017, millions of Americans and our friends from around the globe joined peacefully across the U.S. at events that started in the blue state of Oregon, and ended in the red state of South Carolina."
Man, I wish I could come up with words as beautiful as these!
As I am also terrible at taking photographs, I'll share TDA's pictures below instead. The guy has a listening problem, as we know, but he sure does take some amazing pics:
11:24:53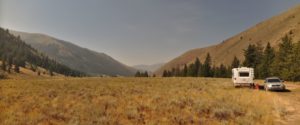 11:29:16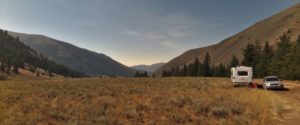 11:29:27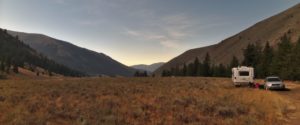 11:29:31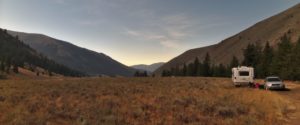 11:29:41 TOTALITY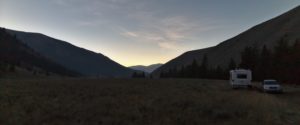 …but I know how to turn them into a GIF 😉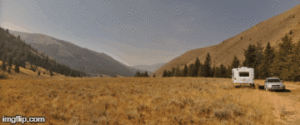 ….and then the sun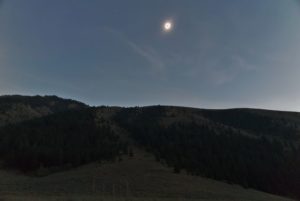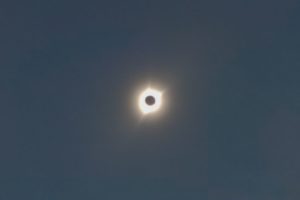 We had no special filters or equipment, but you can see the corona quite well, albeit not as nicely as in professional photos.
Later that day I realized that a fellow humanist and HSGP member Chris, was actually in Stanley and would be driving through Ketchum that evening. We would have liked to meet up, but missed him unfortunately. I wish I had known HSGP folks were coming up all the way from AZ, it would have been even more awesome to spend the day with my humanist tribe.
By the way, if you have eclipse glasses that you would like to give away, please consider donating them to the Astronomers Without Borders Donation Program. They will be sent to schools in Asia and South America, where an eclipse can be seen in 2019. This keeps our used glasses out of the landfills and helps others in the process.
How did you experience the eclipse? Did you have to travel far, stay at home, got stuck, unstuck? Please share your story!