Dental Work in Los Algodones, Mexico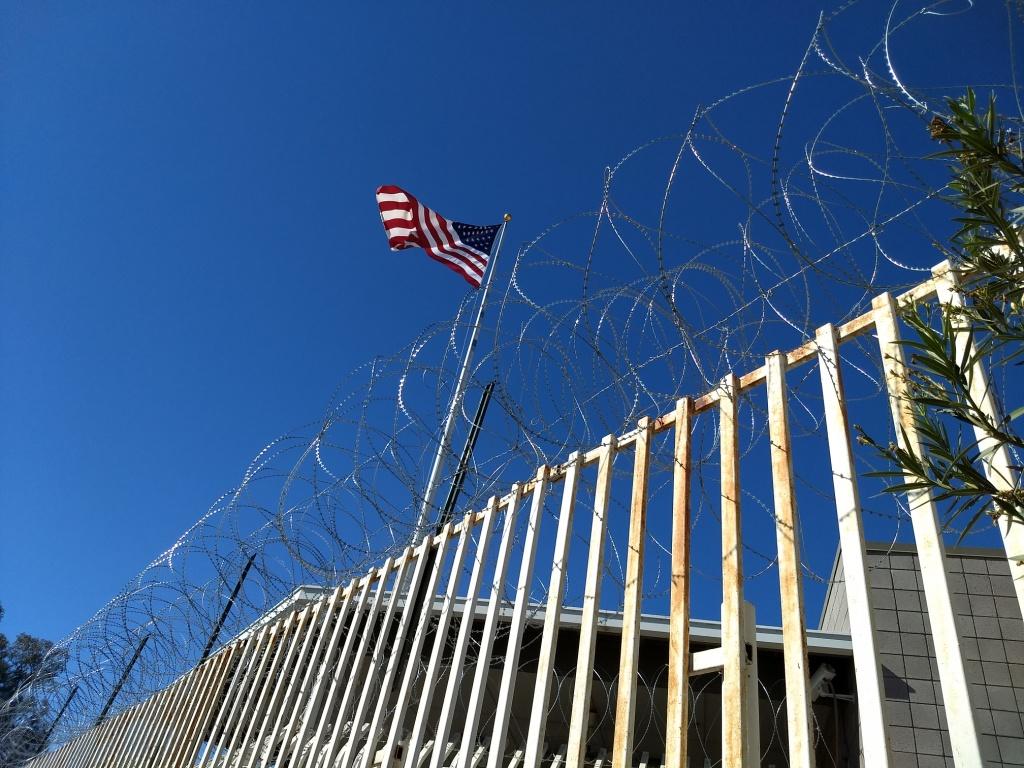 Los Algodones in Mexico, right across the border from Yuma, AZ has quite the reputation as a "medical tourism" destination for snow birds and South West locals alike. Most of them head over to get affordable dental care and cheap prescription meds. In addition to the dentists and pharmacies, there are also a large number of eye glass shops, a chiropractor, a dermatologist, a veterinarian, about a gazillion souvenir shops and a bunch of other services people may be interested in.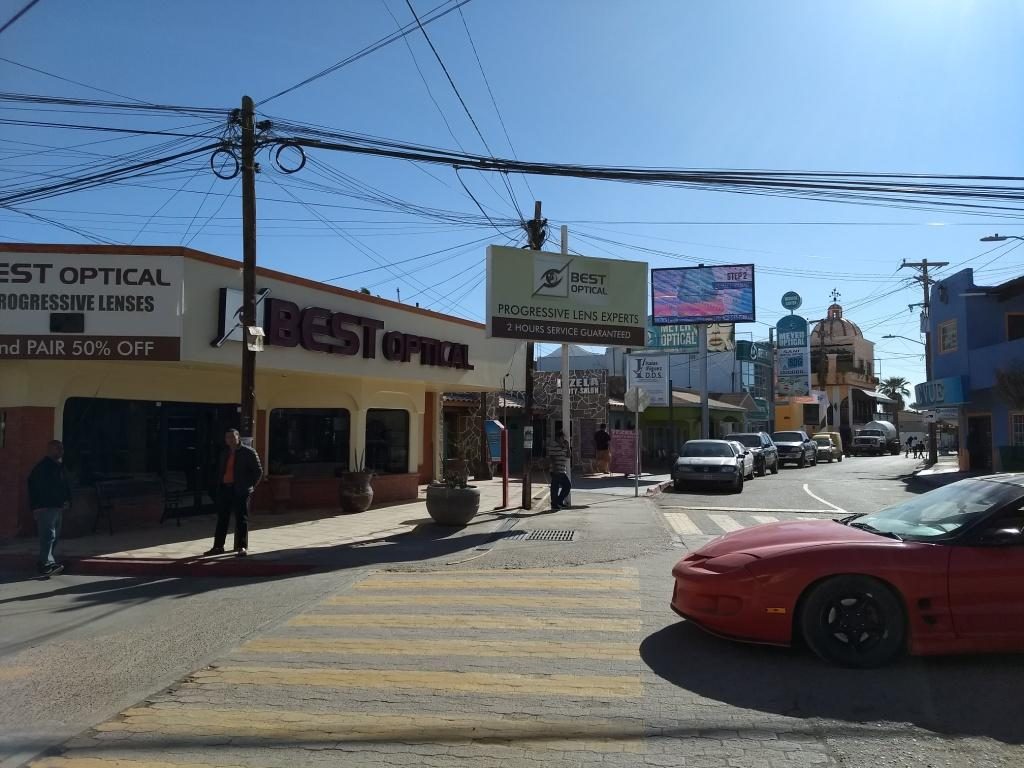 I had confirmed with both a US and a German dentist that I needed an implant on a tooth that had a 25 year old root canal, a 20 year old apicoectomy and a couple of crowns over the years. We had done what we could to save that tooth, but now it was visibly abscessed and it had to come out.
Getting an implant can be a lengthy process, so I opted for getting it done in Algodones, both for timing reasons (easy for me to travel to for several treatment steps over the course of a year) as well as cost (a third of the cost of what my US dentist quoted, or a bit less than half of what it would have been in Germany).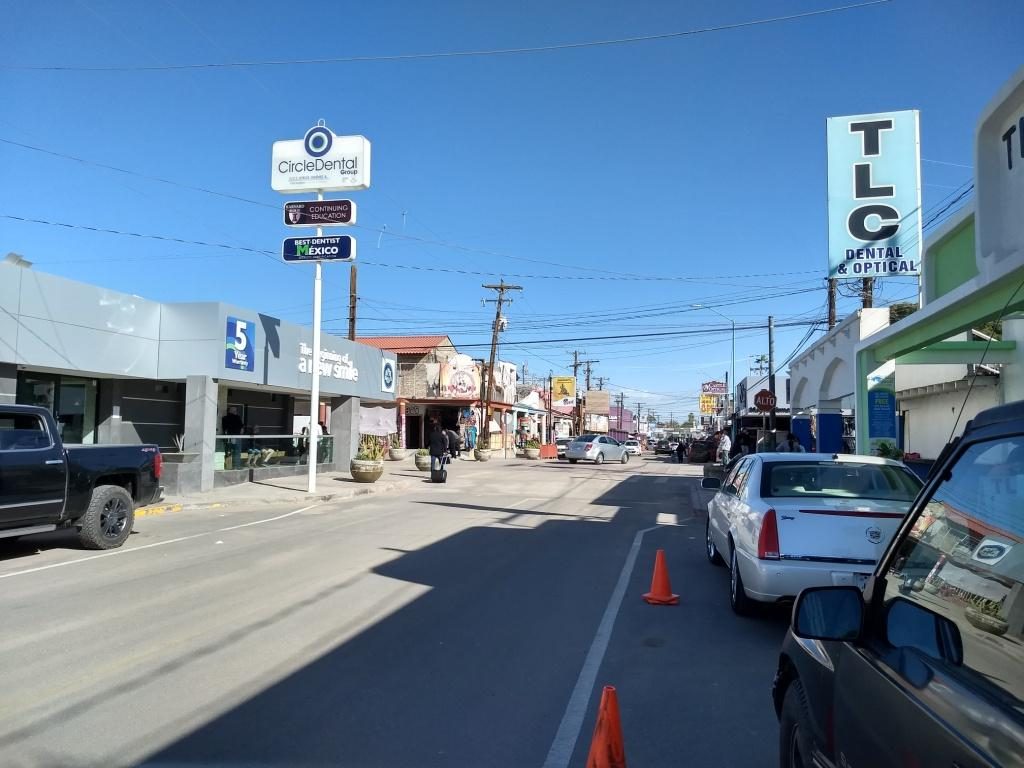 I spent quite a bit of time researching dentists. There are a lot of reviews online and it's hard to discern which ones are real and which ones are fake. The various RVer and travel forums are a good place to start reading, but it is even more important to ask around among your friends and acquaintances. I have several friends who have gone to Algodones in the past years so I started asking for their experiences.
It was really important to me to get recommendations from people who had done more than just a simple cleaning. I wouldn't be overly concerned if it were just a cleaning, but I knew I was going for oral surgery and I wanted to definitely see a denist who knows what she or he is doing in that field.
There were several names of dentists that came up repeatedly in personal recommendations. One was the famous Dr. Carlos Rubio of Rubio Dental along with Dr. Juan Bernal, Dr. Eva Urena and Dr. Carlos Beltran. The former two have bigger offices with more staff, the latter two have smaller non-descript offices. I am sure there are lots of other great dentists in Algodones and probably also a few crappy ones, just like in any US or German city.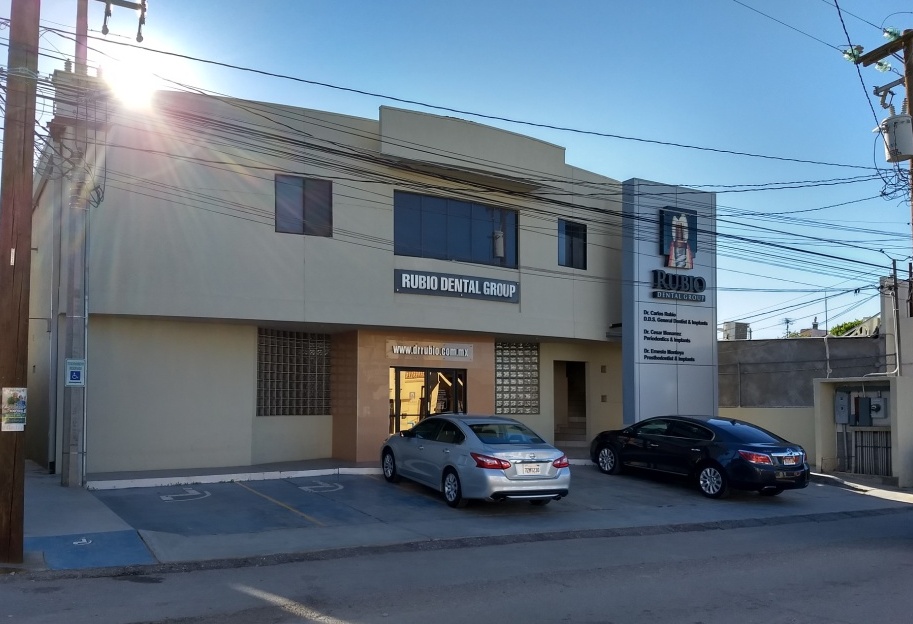 After further research, between those dentists on my short list, I ended up scheduling consults with Dr. Rubio and Dr. Beltran. I was very open to both about getting another opinion. I didn't want to waste anybody's time, but I wanted to get both their input on my particular situation. Both speak English perfectly, had English speaking staff that was well organized and communicated wonderfully. I speak some very basic Spanish, which is certainly good enough to buy a couple of street tacos and a drink, but I definitely felt more comfortable discussing medical concerns in English.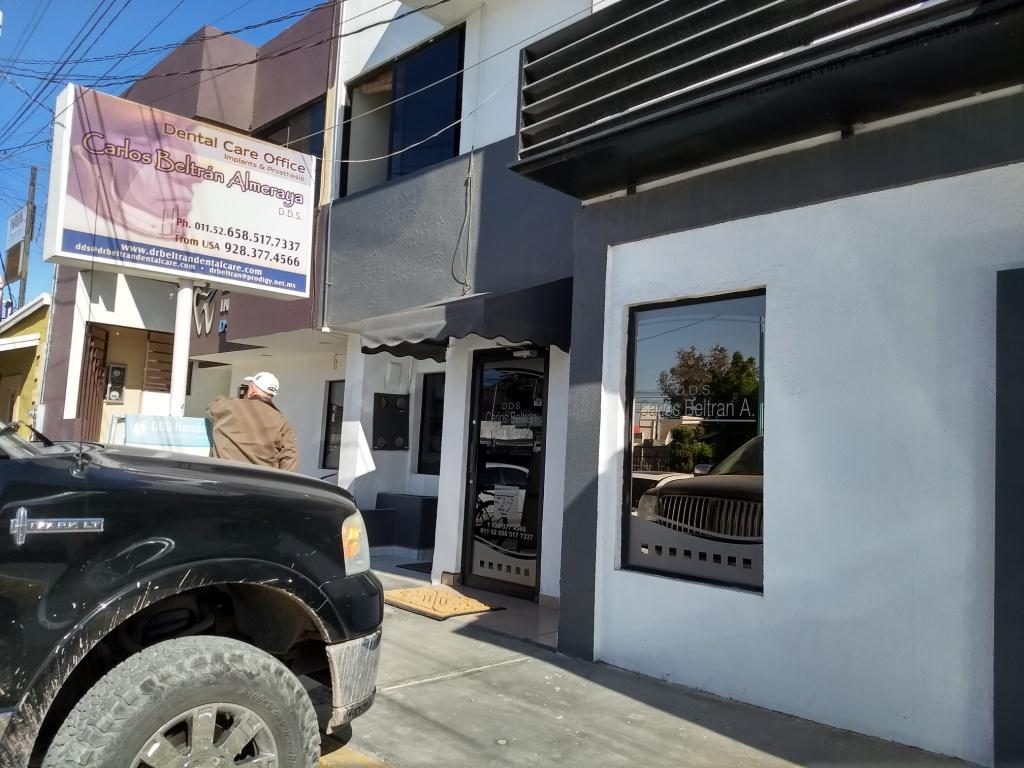 Both dentists suggested, I get a CT scan first before the consult would happen. Both consults went great and I would have felt comfortable with either of the two dentists. Prices were also comparable. Both offices were clean and seemed to follow good sanitation standards. No red flags at either place. I did not take any inside pictures, but I am sure, they would not have minded to show off their respective work areas.
In the end decided to go with Dr. Beltran, because he took a lot of time to explain exactly what he was planning on doing and he answered many questions before I even knew I had them. He also told me that I actually needed two extractions, because I had another abcessed tooth on the opposite side. He did show me exactly on the CT why he came to that conclusion and why he recommended to get both teeth out. Not exactly what I wanted to hear, but I have been having issues with both those teeth for quite a while without much showing on the X-Rays previously done in the US. So far the recommendation had always been to not touch them until necessary, but those abscesses were clearly doing a number on my health.
A couple of days after those initial consults I went in to get those two teeth extracted by Dr. Beltran. He did not just pull the teeth, he carefully removed the roots one by one in order to preserve as much bone as possible. I am going to spare you the details of that ordeal. I just want to say that he and his team are fabulous. They were kind and caring and did everything to make me comfortable and reassure me. They have also checked in with me several times after the procedure to make sure I am doing alright. Of course only time will tell. My implants are going in several months down the road and even after that we'll have to give it a couple of years to see if everything will end up being fine. So far however, Dr. Beltran's team has done everything to earn my trust.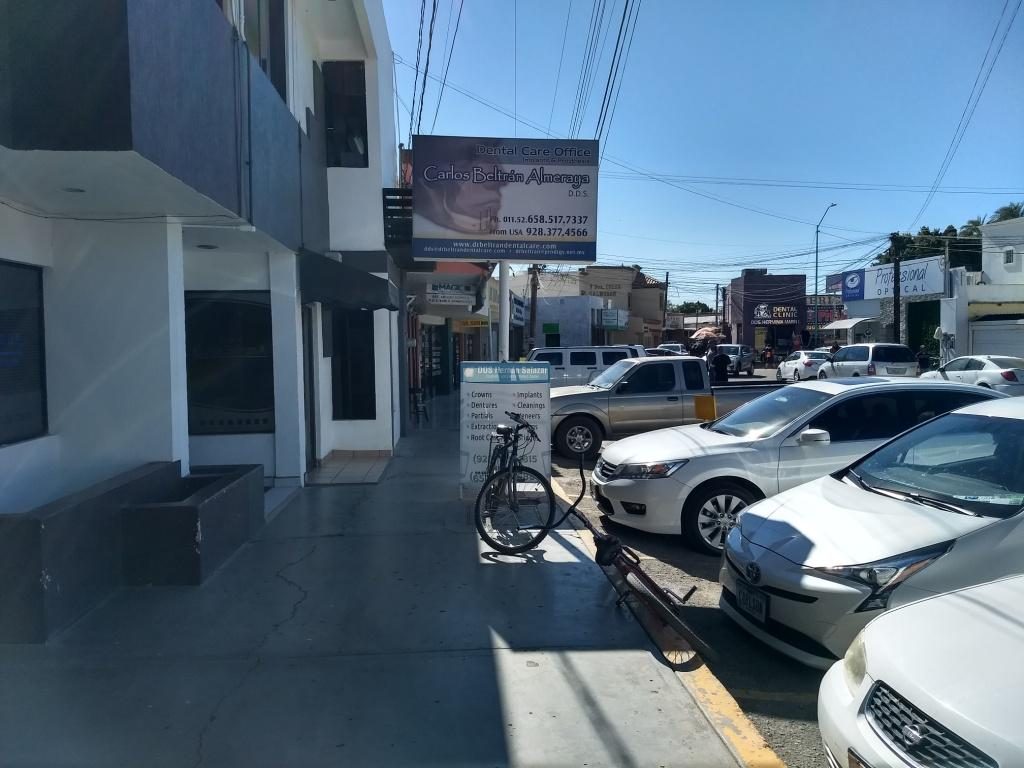 I feel good with my choice and have referred several friends to Dr. Beltran in the last few weeks. As a matter of fact several people we have been camping with had overheard these discussions and asked me to share more information, which is why I decided to sit down and write this post (sorry this took so long, friends!).
This is by no means medical advice, I am no doctor or dental surgeon, nor do I play one on the internet. Please do your own research. I am just trying to share my experience to help others see the opportunities medical tourism has to offer.
I personally have been to Mexico several times, many times by myself. So I had no concern or fear of any kind to cross the border. I knew Algodones was going to be a safe and easy visit, but I also heard from several people, that they are a bit worried about heading south of the border for such big procedures.
If you are one of those people here's some more information to help you plan:
Logistics, parking, accomodations, crossing the border to Los Algodones
Yuma, AZ is the closest town on the US side. There are many BLM spots around Yuma where you can camp for free, there are also numerous RV parks and Hotels / Motels if that's what you prefer. There are also a couple of B&B's in Los Algodones, some of which may have preferential rates depending on which dentist you work with.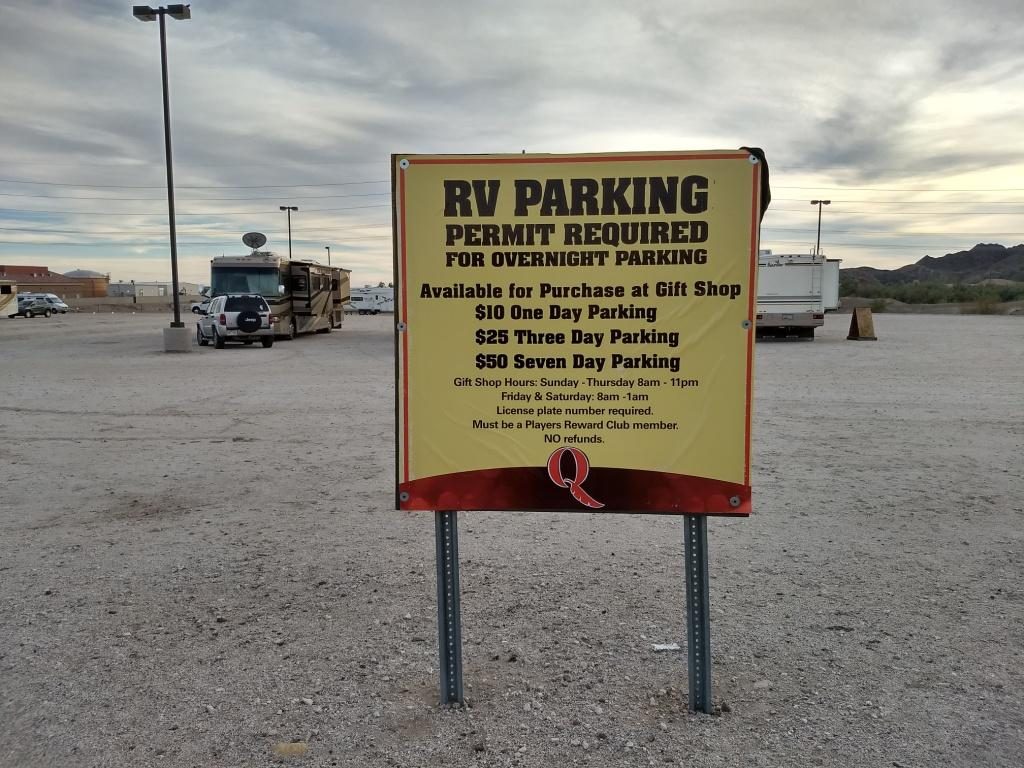 The area right adjacent to the border is Tribal land, that belongs to the Quechan Indian Tribe. About 1.8 miles north of the Border Crossing is the Quechan Casino Resort. They allow RVers to camp in their parking lot. It's essentially a gravel / dirt lot, not blacktop parking. You have to join their players club, which is free. They'll even give new sign ups a few $ in free play money. At the time of this writing (March 2019) it costs $10 per night to overnight park there, $25 for three days and $50 for 7 days. This used to be free, but is now a pay lot.
That casino also has a hotel, if that is what you prefer. It's probably the closest hotel to any dental office, short of staying in Los Algodones proper.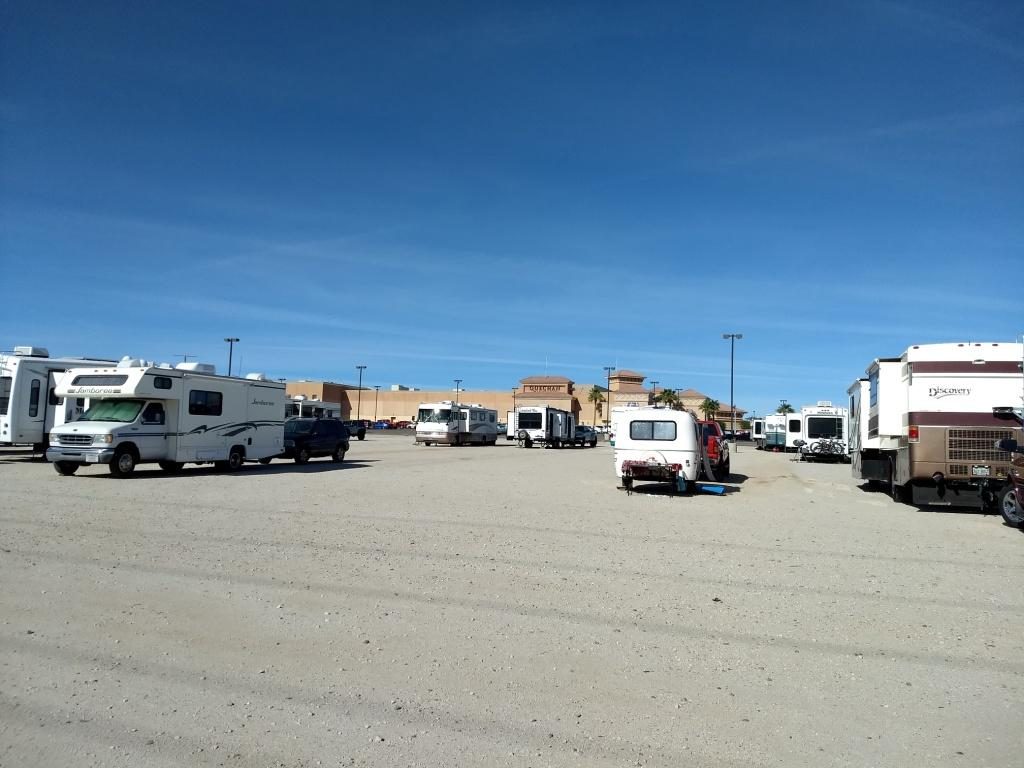 In addition to this, RVers have the option to park overnight right near the border crossing point. This is public parking, both day and overnight, also run by the Quechan Tribe, but not affiliated with the casino. So even if you have paid at the casino, you will have to pay to park there. If you have a larger RV, that can cost $22/night (as of Feb 2019). You absolutely have to let them know at the time you drive onto the lot if you want to park overnight. They'll have you park in a designated area. So no changing your mind, once you are in Los Algodones and decide to stay over night, or you may get towed.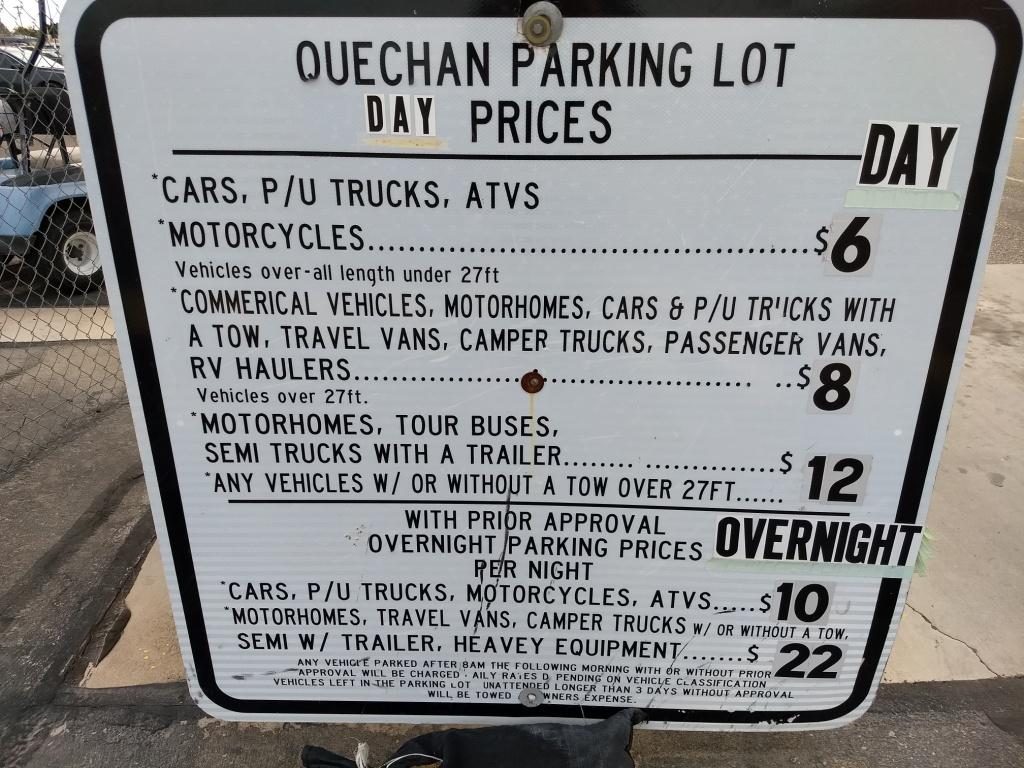 Day parking for cars in that lot is $6. So we ended up leaving the RV in the Casino lot and just taking the car to the border parking lot. Many people also park on the side of the road past the no parking sings and walk a little further.
You can also drive in, there is paid parking in several areas on the Mexican side, but you'll have to have separate car insurance for Mexico, which is easy to purchase online. To me it seemed a lot easier to leave the car on the US side and just walk over.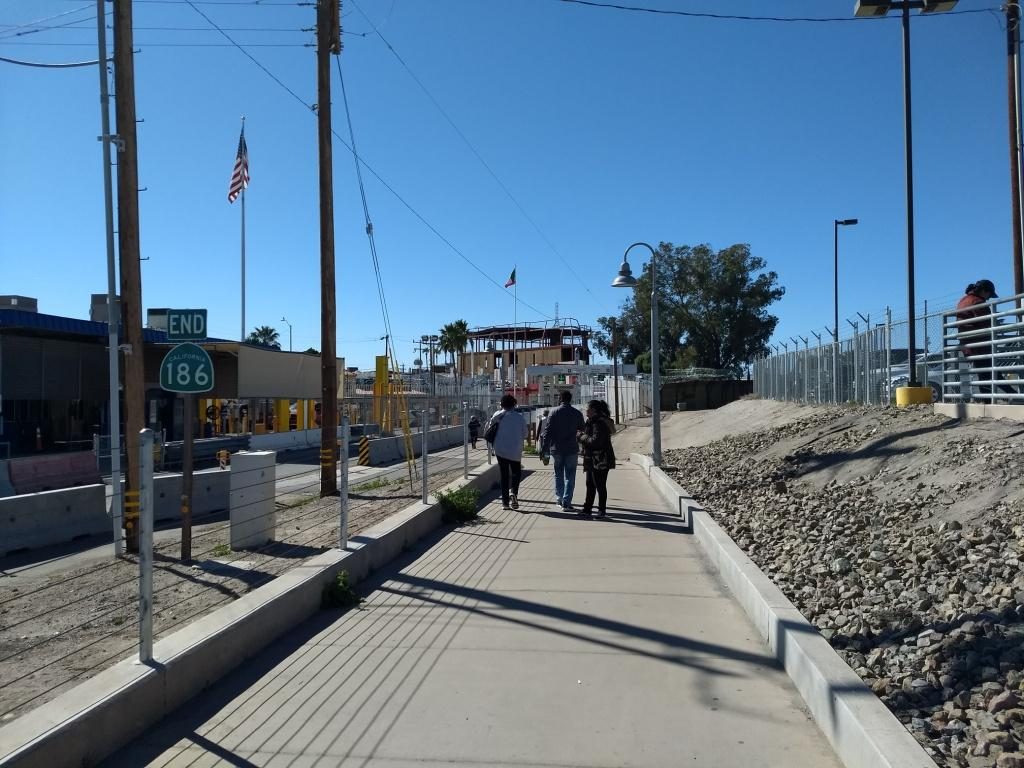 Once you go through the border point from the US to Mexico, you pretty much just walk through. I crossed five times within a couple of weeks and several times on other occasions, not one time was I checked walking into Mexico. Once you are past the Mexican "checkpoint" you'll immediately see several of the pharmacies, signs for dental offices, eye glass shops etc.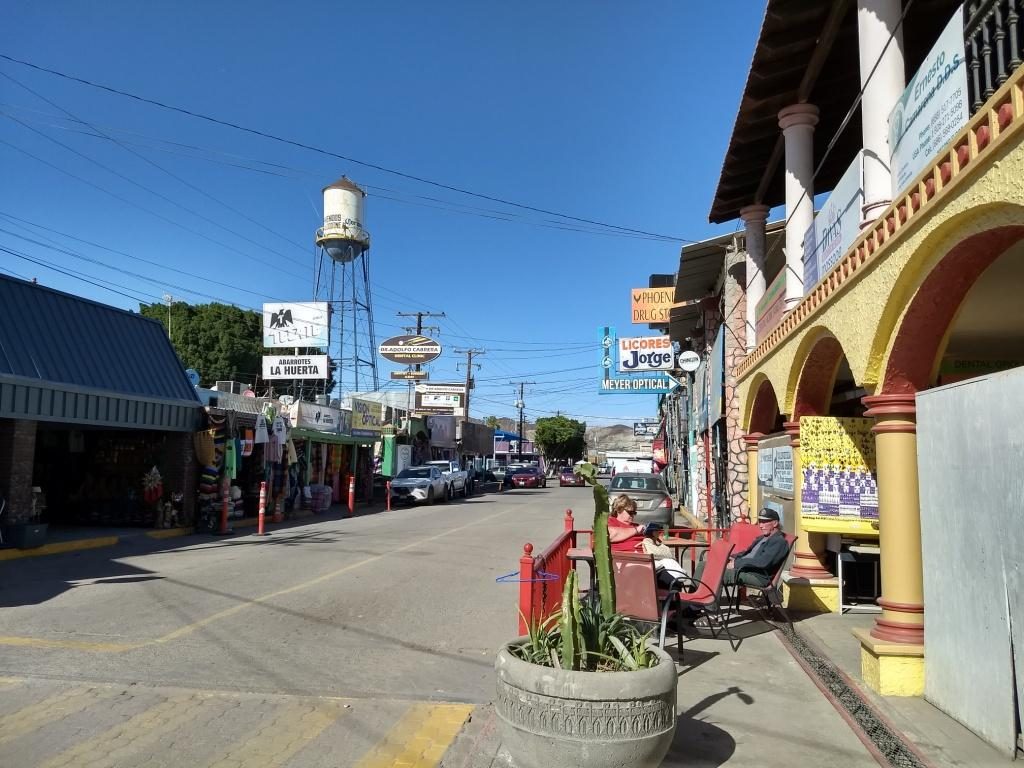 You'll also be approached by a bunch of people, trying to get you to see a particular dentist or buy some souvenirs etc. Most of them are friendly and a polite "no thanks", will suffice.
I have traveled extensively throughout Asia where hawkers are much more aggressive. I found the ones in Algodones to be friendly, laid back and pleasant to deal with.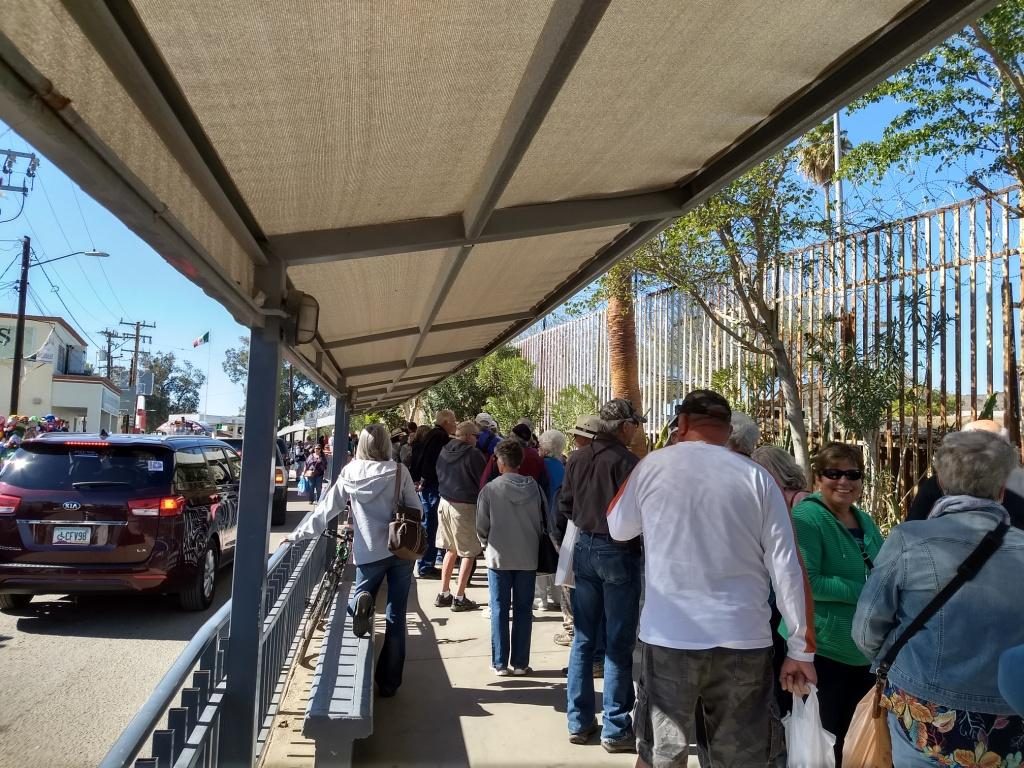 On the way back, the later you get in line, the longer will be your wait. One of my consults was at 9 am, I was done before 10 and walked back through the border checkpoint waiting all of 6 minutes in line. The afternoon lines are a lot worse, especially now with snowbird season in full swing. One day I had to wait 1.5 hours, getting in line roughly around 3pm.
The day of my procedure we didn't get done until 4pm and it was a good two hour wait. Not fun after a procedure, holding ice packs to your face, but also not terrible. The car line seemed to go much faster that day though. At least in January and February it is not so terribly hot yet and there are some canopies providing shade. I would not want to do this in August though.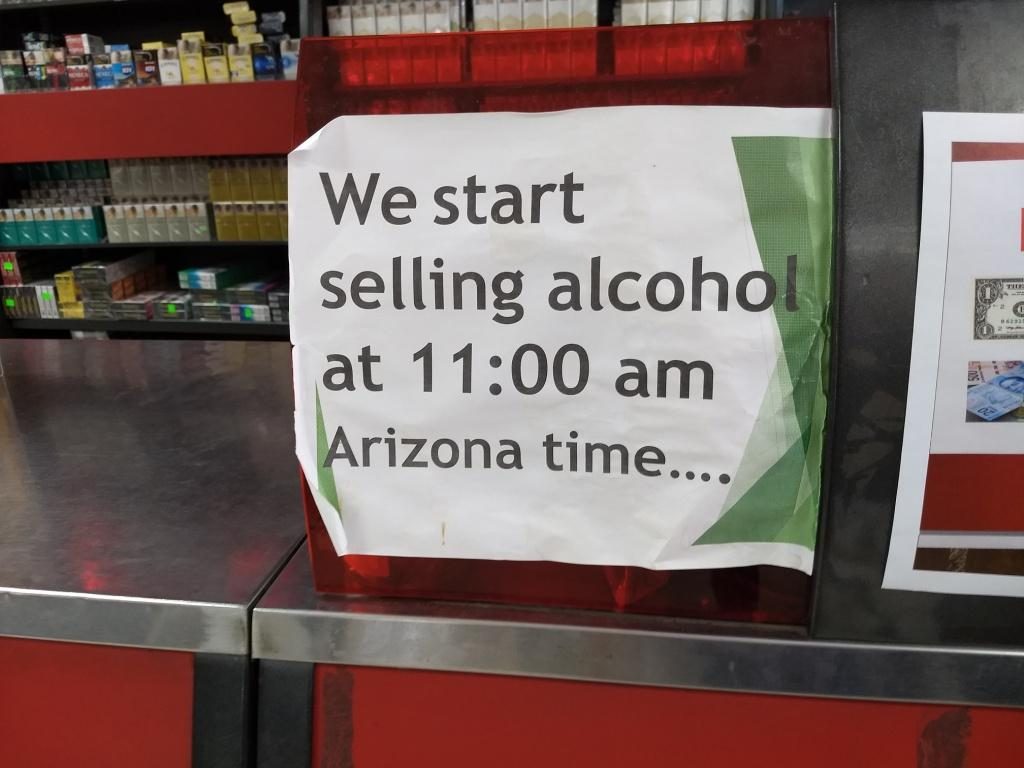 After 11 am usually is the time, when lines start getting longer. The local stores start selling alcohol at 11 am. So the people coming over to purchase booze among other items will start joining the crowd adding to the line.
By the way, everything is on AZ time in Los Algodones, although this area of Mexico technically has an hour time difference to Arizona in the Winter. This is how much this place caters to the snow birds. They don't want people to be confused about what time their appointments are.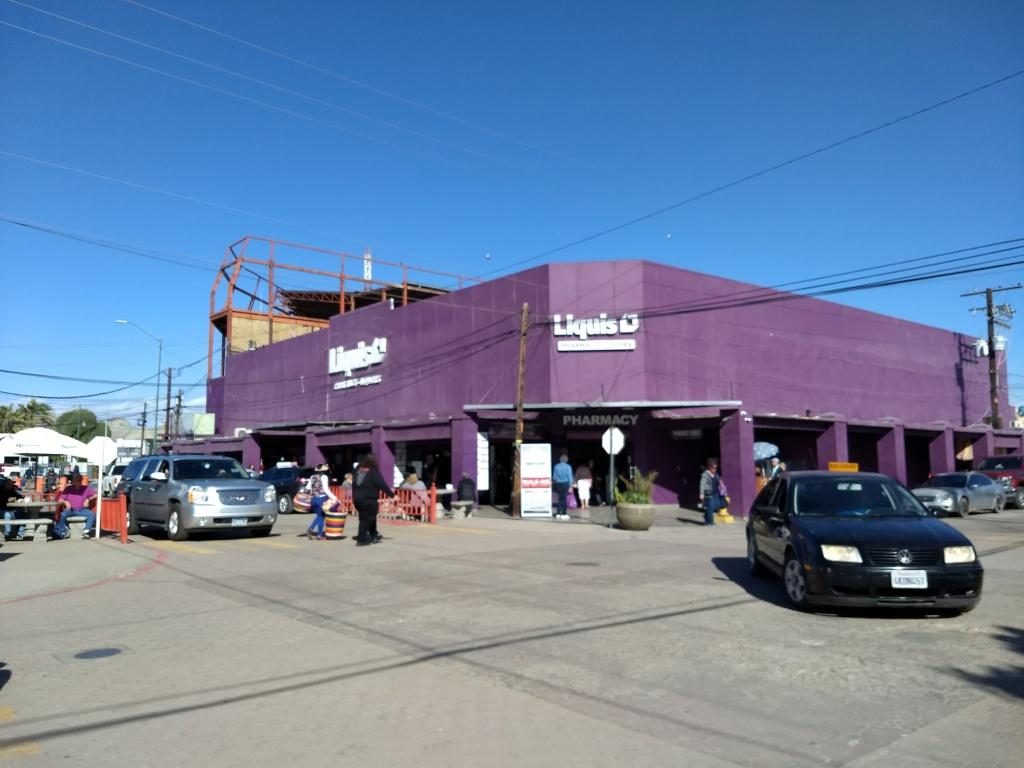 If you are bringing back meds you purchased in one of the pharmacies, make sure you do your research to confirm if it is allowed to bring over the border whatever it is you are planning to bring. I did have a prescription, but was not asked for one at the checkpoint. You can buy many prescription drugs without Rx in Algodones. The couple in front of me at the pharmacy purchased several months worth of blood pressure meds, cholesterol medication etc.
Just do your research. Many of the pharmacies have US phone numbers, some even publish email addresses, so if you have a specific drug and want to find out if they carry it, it's a good idea to check ahead of time. The staff at the pharmacy I went to spoke good English, most pharmacies will probably have a couple of English speakers on staff.
I personally only got some antibiotics recommended by the dentist as well as some ibuprofen, which can be brought over the border without any problem even without prescription.
How to find a good dentist in Los Algodones, Mexico
If you are planning on having serious dental work done, here's a few words of advice, based on my (very limited) personal experience:
Ask around! Preferably ask people you have personally met. Blog posts like this one are nice and so are forum discussions, but personal recommendations really are the way to go. If you know people in the nomad community or part time or full time South-West area residents, ask them. Many folks have been going to the same dental offices for years and will also gladly tell you whom to stay away from if they've had a bad experience. This is true for any place, not only Mexico.


Don't stop there. Ask WHAT those people have gotten done. It's one thing to go for a cleaning, but an entirely different thing to have oral surgery. Also some of the big shots, will only do the lucrative work, such as implants, and let other dentists in the office deal with the cleanings. This is understandable and specialization is a good thing, it will also give you a feel for how a particular office is organized. But if you are planning on major work, make sure you are talking to the dentist who will do your actual work and insist that he or she perform your procedure and not one of their junior staff members.


If you are planning on seeing a particular dentist, you will want to make an appointment. Most places cater to US and Canadian visitors and thus have US phone numbers to call and English speaking staff. If you want to be sure you can beat the crowds and get seen right in the morning, it's also better to get an appointment. That said, if you just stroll over to get some meds and spontaneously decide to also get a cleaning, you'll most like find someone who can do that on pretty short notice. So for simpler procedures appointments may not be absolutely necessary, but they are certainly better when you want to plan your day or have your mind set on a particular dentist.


Prices vary, so by all means shop around, but don't only shop around for the cheapest. Find a dentist you can trust who has good references. Make sure you are comparing apples to apples when weighing solutions and options against each other. Even if one solution costs a bit more, or one dentist seems a bit more pricey, differences will not be all that huge and overall the work still will be comparatively cheap considering other countries, especially the US. Also, the most expensive is not automatically the best either. There are good and bad service providers in every city in every country.


Beware of some of the online reviews. Many of the rave reviews were submitted by one person, who only had one post in that particular forum. If it's too well written, it may be a bought review and not a real one. Forums and message boards are a great resource, but only should be used to cross reference with the personal recommendations you have received.


If you have A LOT of work you need to get done, ask for a treatment plan and prioritization. This will also allow you to spread out the procedures over times, so you can see how the work will hold up. I would be wary if a dentist wanted to pull 10 of my teeth all at once or put crowns / root canals on a large number of them. Get a second opinion, even a third. Take your time. These are your teeth, once they are pulled that is it! Also if you ended up with a not so great choice and just get partial work done, not all is lost. I realize a lot of people are on tight schedules and are trying to do everything in one or two visits, but in my opinion that's probably not the best way to go.


Nobody likes to go to the dentist, but don't wait too long. I was fortunate to have had access to decent dental care most of my life, so things got caught early. If you have not been to a dentist for a while and know something's up, go get it checked out now. Something that is a small fix today, can turn into a big expensive thing, painful in more than one way, in a few months time. An ounce of prevention and all that!


Some of the dentists say they'll accept US insurance. In reality that may mean giving you a filled out form that you submit to your insurance, or that may mean they directly can bill your insurance. Double check which one it is to avoid surprises. As far as payment is concerned, pretty much everyone I spoke to accepts US $, some will accept US checks or travelers checks, a few will allow you to pay with a credit card, but do charge a fee. That is definitely something to look into early on, so you come prepared accordingly.


I read somewhere that there are 300+ dentists in a one square mile area in Los Algodones, not sure if it's true, but having been there it does not seem to be far fetched. There are plenty of places to chose from, so if you don't like someone's "chairside manner" by all means find one you are more comfortable with. Don't be afraid to ask questions.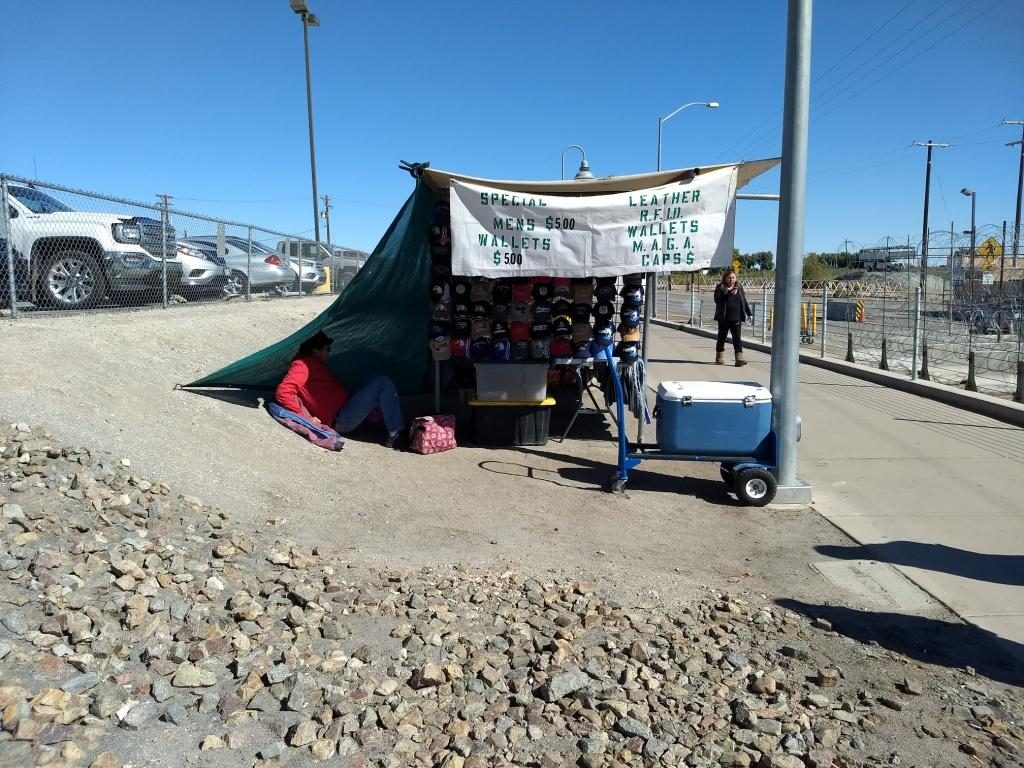 After all this here's a few numbers:
CT Scan
$150 (you may have to pay $10 for a second copy if you are getting a second opinion)
Your Dentist orders this and the CT folks pick you up at the dentist office and take you back right away after you get your scan. The dentist reviews the scan and discusses treatment options with you based on this.
It's much more detailed than the X-Rays I have seen in both US and German dental offices and I have had some surgery work done before
Extraction
$100 per tooth (payable the day of the procedure)
Bone graft
$ 550 (if necessary, we'll see that in a few months) per tooth
Implant
$ 850 per tooth

Ask where your dentist is sourcing these from and why.
Crown on Implant
$ 750 and up depending on what you chose (Porcellain, Zirkonia, Gold etc.) per tooth
Cleaning
$ 35-50, prices differ among the various offices
MEDs
Amoxicillin 500 MG 100 (!) capsules $4.99
Ibuprofen 800 mg 100 capsules $4.99
I am planning on publishing a follow up, once I get the remaining dental work done. I believe it is important, to talk about how the work has held up and how things have turned out in the long run.